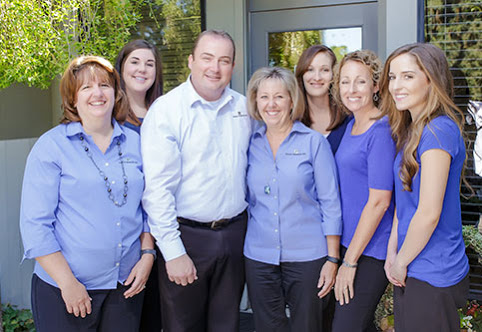 We recognize that all of our patients are unique and deserve to receive orthodontic care that reflects their individual needs. Our experienced and talented team is committed to working with you and your family to create a comfortable, stress-free, and rewarding orthodontic experience every time you visit our practice. We are pleased to welcome you and your family, and we look forward to working with you.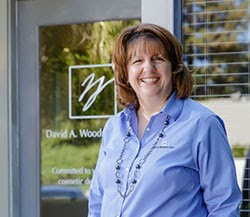 Brenda
Patient Care Coordinator
I love meeting wonderful people and introducing them to our office. It's a pleasure to reassure them that Dr. Woodruff is a gentle dentist. He offers great care and recommends treatment appropriate for their needs. We have an amazing team at our practice and everyone will do whatever it takes to make sure our patients are smiling. I verify patients' insurance and coordinate appointments.
I'm happily married and have five sons, five daughters-in-law, and seven grandchildren. I enjoy spending time with my wonderful family, as well as cooking and hiking.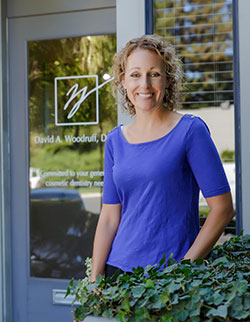 Jami
Registered Dental Hygienist
I enjoy getting to know my patients and their families, some of whom I've known for many years. I focus on helping patients feel at ease during their visits, letting them know I'm here to support them. I take X-rays, screen for oral disease, and clean patients' teeth. A lot of my day is spent teaching each patient about their oral health and how they can improve it. Together, we find the best home hygiene tools and techniques, so they can have a healthy smile for years to come.
When not working, my husband and I keep busy attending our two daughters' school and sporting events. We enjoy traveling, camping, and hanging out with friends and family.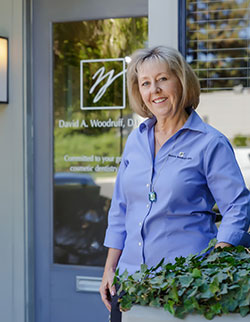 Lora
Office Manager
I enjoy learning who our patients are and being part of their lives. It's a pleasure to come to work each day, because of our wonderful patients, Dr. Woodruff, and our staff. We're all focused on delivering the best care and meeting each patient's unique needs. I handle billing, make appointments, and work with patients coordinating financial arrangements. I also greet patients when they arrive and check in with them when they leave, to make sure they're happy with their visit.
I'm married to a wonderful man and have a daughter who lives in San Francisco. When I'm not working, I enjoy staying active. I practice Pilates and love riding road bikes and going camping.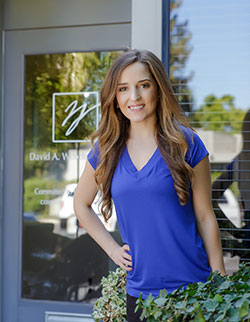 Christina
Registered Dental Hygienist
I enjoy having the ability to help people improve their dental and overall health. It's a pleasure to get to know my patients and learn about their lives during their visits. I assess each patient's oral health and provide thorough, gentle dental cleanings. While I'm working with a patient, I talk with them about their mouth and why it's important to keep it clean and healthy. I teach them the best home hygiene routines, as well as provide information about nutrition and developing good habits.
Outside the office, I enjoy spending a lot of time with my family. I also stay active in local Portuguese events and events with my church.